IN PARTNERSHIP WITH THE MINISTRY OF TOURISM AND CREATIVE ECONOMY, REPUBLIC OF INDONESIA
Living Well in Indonesia
---
As the world's largest archipelagic country, the world's third largest forest area, and the world's fourth most populous country, Indonesia is a rich country in geodiversity, biodiversity, and cultural diversity. Wellness in Indonesia is rooted in these rich and diverse natural and cultural resources. Its wellness offerings draw upon indigenous wellness practices that have existed in the country for more than 2,000 years, blending local traditions with other traditions from India, China, and Arab countries. Indonesia's regions offer a wide variety of healing experiences for the mind, body, and soul. Unique wellness destinations in Indonesia include Solo and the surrounding areas, with its long tradition of aromatherapy, medicinal plants, and jamu (Indonesian traditional herbal medicine); Yogyakarta, with its immersive wellness journeys in village settings and royal palace traditions; as well as Bali, with its luxurious and eco-friendly wellness retreats.
KEY FACTS

Population
273,523,621 (2020)
Life Expectancy for Men
69.6 (2019)
Life Expectancy for Women
74.0 years (2019)

INDONESIA WELLNESS ECONOMY REPORT
---
This country report is the first detailed measurement of the size of Indonesia's wellness economy, presenting data on its eleven wellness sectors. The report shows the trajectory of the wellness economy from 2017 to 2019, the pandemic impacts in 2020, and subsector details where data are available. It also contains global and regional comparisons to show where Indonesia stands vis-à-vis its peers and competitors. This report and its data will be valuable for any businesses and investors who are interested in the opportunities and potential offered by Indonesia's dynamic wellness market.
WELLNESS ECONOMY BY SECTOR IN INDONESIA
---
The wellness economy, as defined by GWI, is broad and diverse. Its eleven sectors encompass many different types of consumer activities and expenditures, including products, services, travel, and technology. Every country's wellness economy is unique. Its composition can vary widely from country to country, based on its development history, culture, socioeconomic conditions, and government policy. Below we present Indonesia's top-line wellness economy data and how it ranks globally. More details are available in the downloadable country report.
Indonesia Rankings out of 218 countries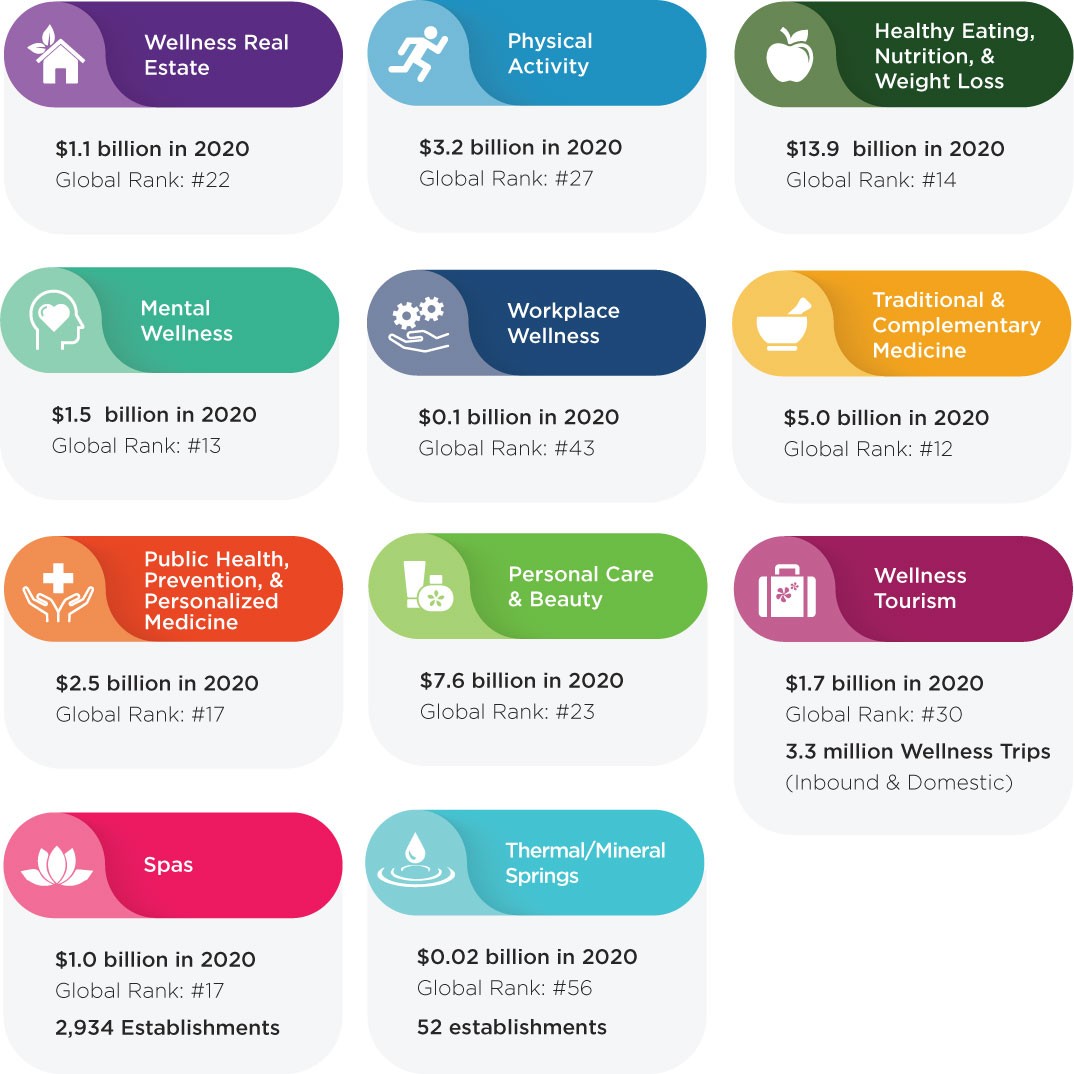 KEY WELLNESS EXPERIENCES IN INDONESIA
---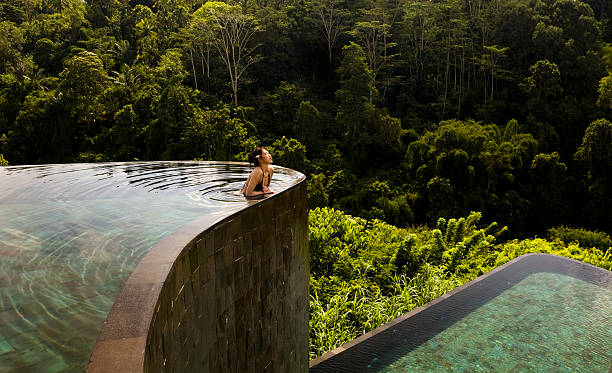 Indonesia is an exotic and popular travel destination known for its rich cultural history and authentic wellness treatments and offerings. It is known for its beachfront yoga studios, five-star luxury wellness resorts, pristine hot springs, ethno-wellness spas (Javanese spa, Balinese spa, etc.), delicious healthy cuisines, and traditional therapies based on endemic spices and herbs. Indonesia also offers many opportunities for nature-based wellness experiences. Some national parks are now offering forest healing activities such as meditation, tree-hugging, slow-pace walking, and beautiful venues for outdoor wellness-related activities like eco-trekking, diving, and cycling.
Wellness travel in Indonesia offers transformative journeys sourced from local wisdom. Transformative journeys combine the "internal landscape" that is within humans and the "external landscape" of the local environment in wellness tourist destinations with a mindful travel approach. The Indonesian approach to wellness values the experience of opening oneself through various programs, exercises, and attractions that provide holistic nourishment to the body, mind, and soul.
View PDF: Indonesia Holistic Wellness: A Guide for Transformative Travel
OTHER GWI RESOURCES & REPORTS FOR INDONESIA
---
PROVIDED IN PARTNERSHIP WITH THE MINISTRY OF TOURISM AND CREATIVE ECONOMY, REPUBLIC OF INDONESIA
---
The Global Wellness Institute is grateful to the Ministry of Tourism and Creative Economy (MOTCE), Republic of Indonesia (RI), for supporting the development of this country report and making its significant Indonesia-specific wellness data available to the world.
MOTCE RI is focusing on the quality of tourism experiences and concepts in Indonesia, as well as developing special-interest tourism, sports tourism, and MICE tourism. Wellness tourism, as one of the flagships in the special-interest tourism segment, will be strengthened to support the long-term goal of Indonesia as a sustainable and globally integrated tourist destination. MOTCE RI has a vision of becoming a global wellness tourism destination and a globally recognized wellness product-producing country.
Visit the Wonderful Indonesia website